See All of Our Available Pets on Adopt-a-Pet
(Click the image)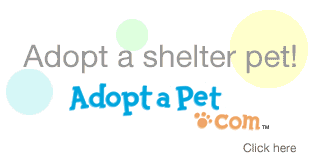 ---
Pets of the Week
CASSIE: Spayed female She is one sweet senior! She is a very young and fit 10-11 year old. Cassie is totally housebroken, wonderful on a leash and loves to ride in the car. She gets along great with her foster home's 2 dogs and a cat. She's an unusually quiet little Chihuahua. She's on no medications. Consider this sweet senior to spend the last years of her time with you! Did we mention no adoption fee to the right adopter?
---
Purchase Bissell Products and Help Pets
(Click the images for more information)
---
Desoto Dog Park
The mission of the Desoto Dog Park is to establish a gated, off-leash dog park for well behaved dogs to exercise in a clean, safe environment. In 2012, the Hot Springs Village Friends of the Dog Park was established to create this park and include volunteers from existing property owners, POA board members, and dog lovers. Check out their website at Desoto Dog Park.
Video of Dog Park from Air
Hot Springs Village Animal Welfare League has been activated as a No More Homeless Pets Network Partner! Best Friends created the No More Homeless Pets Network (NMHP Network) to work with rescue organizations and shelters around the country that are reducing euthanasia rates and saving lives in their communities. Click here to see a summary of our organization's statistics and an overall save rate for the reporting period.
---
Name a Pet - Save a Life!
Enter the AWL Name-a-Pet challenge. For a donation, you can suggest a name for a kitten or cat, puppy or dog. We will pick names submitted by those who donate. Then, AWL will send a photo of the little ball of fur that the donor named.


Click here to donate online with your credit card.
---
Puttin' On the Dog . . . and Cat
We welcome Arvest Bank as our corporate sponsor.
The Animal Welfare League's huge fundraiser for the year is "Puttin' on the Dog . . . and Cat" on September 22, 2015 at the Coronado Community Center. Our "Puttin' on the Dog . . . and Cat" is a catered dinner by Home Plate with music and elaborate silent and live auctions. Doors open at 4:30 p.m.
We will also have a benefit drawing that is one of our largest fund raisers for the year, and you do not need to be present to win! Prizes:

1st prize – $500 cash
2nd prize – $350 cash
3rd prize – $150 cash
4th prize – $100 cash
5th prize – $100 cash
In addition, we have raffle of tickets which are sold at the event for which you must be present to win.
In all, the evening promises to be a sold-out fun celebration to raise funds to help our companion animals. All proceeds pay for food and medical care for the animals that come into our care.
Tickets will go on sale at Melinda's Coffee Corner, LBG Lighting, and The Dogwood Tree starting August 17, 2015 for a modest $20 per person which includes the dinner and entertainment.
Want to sit with friends and family? Reserve a table for 9 for simply by buying 9 tickets (one person must purchase all 9 tickets) and you can choose the table! Contact Julie at 915-9986 to reserve.
---
Animal Welfare League Offers Micro Chipping
In June, the AWL Board of Directors voted to begin micro chipping our adopted animals. Ultimately, all dogs will be micro chipped and cats will also be micro chipped if their new adoptive owners desire.
A $10 fee will be added to the adoption fee for all who are micro chipped to cover the cost of the chip—AWL does not charge for inserting the chip. The $10 fee includes lifetime registration for the pet and a lifetime guardianship feature that tracks the pet back to AWL. Owners simply ensure their contact information is up to date.
The Board also voted to offer this service to owners of pets who were previously adopted from AWL for a donation of $40. If you have records of that adoption, call the Adoption Center and leave a message with your name and number; we will call you with an available date.
And, thanks to a generous donation from a Champions winner, the initial cost of the scanner and supply of first chips has been covered!
The Board sees this as a valuable service to identify our adopted pets and other local pets with chips that become lost. This is another way AWL works to serve Village pets and those who love them.
---
Unique Fundraiser – Doggone Baby Blankets
One of our new Directors, Sheila Cosby, is super talented and will donate her time and talent to creating something lovely and useful: gorgeous baby blankets and outfits. She will give all proceeds to AWL! What a windfall for AWL because these are amazing creations. You can get an idea from the photo that these lovely knitted baby blankets and outfits are a real bargain. Buy or order some for your children, grandkids, great nieces or nephews, or children of friends. They are guaranteed to be a hit with everyone, especially the parents. For information, email Sheila Cosby.
Adoption Hours and Location
Monday - Saturday
10:00 a.m. to 3:00 p.m.
Closed Sundays and holidays

HSV Adoption Center
195 Cloaca Lane
Hot Springs Village, AR 71909
Directions from the East Gate (Hwy 5)
Directions from the West Gate (Hwy 7)

501-915-9337
P.O. Box 8032
Hot Springs Village, AR 71910-8032
Lily Alert
The Lily Alert is named for the standard poodle, Lily, who was lost and missing for several weeks before being found, due in part to many efforts by AWL members. The Lily Alert was initiated to step up the efforts to locate missing pets.

If a pet is missing, immediately call animal control at 922-6547. To expand the coverage, call the AWL at 915-9337 and ask to participate in the Lily Alert program. The volunteer on duty will instruct the pet owner as to the procedures involved. Or, email a photo, description, and contact information to contactus@hsvawl.org. Once initiated, the pet's description and contact information will go out to AWL membership by E-blast and website. Pet registration with the POA will increase the potential for a happy ending!

To be included in Lily Alert emails, send your email address to Membership and we will add you to the list.
Lost and Found Pets
LOST pets: Contact POA Animal Control at 922-6547, and then call the Animal Welfare League at 915-9337 for additional help finding your pet. We will help you publicize the pet in the Village and give you other tips on finding your pet.

FOUND pets: These pets are admitted to Animal Control or rescued through other community sources and may be someone's lost pets. Their photos are posted, so please contact Animal Control if you may be the owner or have information that may help reunite a pet with its owner: 922-6547.

Photos are posted in the Animal Welfare League's Lost and Found Album.
---
Recycle Your Cans for AWL
Tenenbaum Recycling Group of Hot Springs is handling aluminum beverage can recycling for AWL. Their yellow dumpster is located at the POA Minorca Sanitation site, located at 218 Minorca Road,  just across from the Cedar Creek trail head. It's open Monday–Friday 9:00 a.m. – 3:00 p.m. Recycle ALUMINUM BEVERAGE CANS ONLY.
Recycling does pay off! 2014 can recycling revenue was $7,552.