See All of Our Available Pets on Adopt-a-Pet
(Click the image)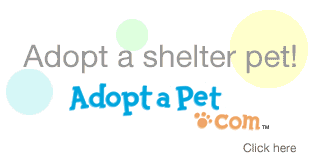 ---
---
Pets of the Week
BUCKSHOT: Neutered male, Fox terrier mix, about 1 ½ yrs., tricolor; cute little guy, housebroken, will be a great little house dog.
RAYNA: Spayed female, shorthaired dark Tortie, 8 mos.; wins award for sweetest & most loving cat and will love everyone.
---
Purchase Bissell Products and Help Pets
(Click the images for more information)
Hot Springs Village Animal Welfare League has been activated as a No More Homeless Pets Network Partner! Best Friends created the No More Homeless Pets Network (NMHP Network) to work with rescue organizations and shelters around the country that are reducing euthanasia rates and saving lives in their communities. Click here to see a summary of our organization's statistics and an overall save rate for the reporting period.
---
Puppy Mills Legislation HB 1620!
The regulation of private, commercial dog breeders to prevent horrific conditions of kennels termed "puppy mills" is the focus of HB 1620. Rep. Jim Sorvillo, who represents part of Pulaski County, introduced the bill that is now in the Agriculture, Forestry, and Economic Development Committee.
Some "furry facts" are depressing, but are nevertheless facts that must be accepted. The ASPCA's definition of a puppy mill is "a commercial dog breeding operation that places profit over the well-being of its dogs-who are often severely neglected-and acts without regard to responsible breeding practices." According to ASPCA estimates, possibly 10,000 puppy mills exist in the U.S. The conditions in which the dogs live are horrifying, shocking, and certainly inhumane. Photos of the dogs and their environment are often too disturbing to tolerate, yet they are the best way to understand the abuse and neglect they endure.
Arkansas was a place of a rescue in mid-February of forty-six dogs and 11 other animals in Warm Springs, Arkansas: "Dogs so cold they had icicles hanging from their fur. A severely matted and emaciated dog that couldn't even walk." Dogs "tied up outside, with no protection from the bitter temperature and piercing winds. . . . Those who were indoors were living on piles of feces and urine."
The HSUS states, "Arkansas, which ranked among the five worst puppy mill states in our 2014 puppy mills report, has no law protecting dogs in commercial breeding facilities. Law enforcement cannot call us in to help the animals until the situation has already deteriorated to the level of animal cruelty."
We encourage you to read the bill sponsored by Rep. Jim Sorvillo. You will see that it does not impose undue burdens on legitimate commercial breeders nor does it apply to breeders of dogs bred exclusively for hunting. This legislation would not only begin to protect the breeding dogs - it would also prevent the birth of unhealthy puppies who often have hereditary defects resulting from irresponsible breeding and illnesses from filthy conditions. The regulation would improve the breeding industry, offering eventually some protection to consumers by stopping the supply of sick puppies.
What can you do? After considering the bill, you can let your legislators know your opinion. Email: Rep. Mickey Gates; Rep. Lanny Fite; Senator Bill Sample. Our legislators want and need to hear from their constituents rather than only hearing from lobbyists. Let them know what you think.
Article from the Democrat Gazette.
---
Garage Sale Alert!
We will have a garage sale benefiting AWL when the weather gets better. Even the groundhogs say this cold can't last forever! Start gathering items that can be converted into cash for Adoption Center operations. Don't bring them to the Adoption Center because we don't have room, but set them aside. We hope to do this some time in late April or early May.
---
Unique Fundraiser – Doggone Baby Blankets
One of our new Directors, Sheila Cosby, is super talented and will donate her time and talent to creating something lovely and useful: gorgeous baby blankets and outfits. She will give all proceeds to AWL! What a windfall for AWL because these are amazing creations. You can get an idea from the photo that these lovely knitted baby blankets and outfits are a real bargain. Buy or order some for your children, grandkids, great nieces or nephews, or children of friends. They are guaranteed to be a hit with everyone, especially the parents. For information, email Sheila Cosby.
---
Cookbooks Still Available!
We sold so many initially that we had to place a second order. At $10 a book, they are a bargain and make fun family gifts. Be ready to buy a bunch! Order your cookbooks by calling Sarah Yerkes at 915-8982 or emailing Sarah. We will also have cookbooks at all member meetings while quantities last.
Adoption Hours and Location
Monday - Saturday
10:00 a.m. to 3:00 p.m.
Closed Sundays and holidays

HSV Adoption Center
195 Cloaca Lane
Hot Springs Village, AR 71909
Directions from the East Gate (Hwy 5)
Directions from the West Gate (Hwy 7)

501-915-9337
P.O. Box 8032
Hot Springs Village, AR 71910-8032
Lily Alert
The Lily Alert is named for the standard poodle, Lily, who was lost and missing for several weeks before being found, due in part to many efforts by AWL members. The Lily Alert was initiated to step up the efforts to locate missing pets.

If a pet is missing, immediately call animal control at 922-6547. To expand the coverage, call the AWL at 915-9337 and ask to participate in the Lily Alert program. The volunteer on duty will instruct the pet owner as to the procedures involved. Or, email a photo, description, and contact information to contactus@hsvawl.org. Once initiated, the pet's description and contact information will go out to AWL membership by E-blast and website. Pet registration with the POA will increase the potential for a happy ending!

To be included in Lily Alert emails, send your email address to Membership and we will add you to the list.
Lost and Found Pets
LOST pets: Contact POA Animal Control at 922-6547, and then call the Animal Welfare League at 915-9337 for additional help finding your pet. We will help you publicize the pet in the Village and give you other tips on finding your pet.

FOUND pets: These pets are admitted to Animal Control or rescued through other community sources and may be someone's lost pets. Their photos are posted, so please contact Animal Control if you may be the owner or have information that may help reunite a pet with its owner: 922-6547.

Photos are posted in the Animal Welfare League's Lost and Found Album.
---
Recycle Your Cans for AWL
Tenenbaum Recycling Group of Hot Springs is handling aluminum beverage can recycling for AWL. Their yellow dumpster is located in the parking lot of the wastewater treatment plan on the hill above the shelter. Please deposit your cans directly there. Recycle ALUMINUM BEVERAGE CANS ONLY.
Recycling does pay off! 2014 can recycling revenue was $7,552.
---
Desoto Dog Park
The mission of the Desoto Dog Park is to establish a gated, off-leash dog park for well behaved dogs to exercise in a clean, safe environment. In 2012, the Hot Springs Village Friends of the Dog Park was established to create this park and include volunteers from existing property owners, POA board members, and dog lovers. Check out their website at Desoto Dog Park.
Video of Dog Park from Air